The Philippines Schools Project started in 2006. Jo and I decided, on a whim to visit Jo's old school, she hadn't seen it for 30 years. Jo said it hadn't changed and, sad to say, I quite believed her. The facilities were appalling, yet the standard of teaching was excellent, and the enthusiasm from the children, absolutely fabulous. You just knew straight away, that something had to be done. From small beginnings, the project just gained a momentum of its own, thanks to all our friends. We are now a registered charity (no.1148559) and have a dedicated website, why not take a look?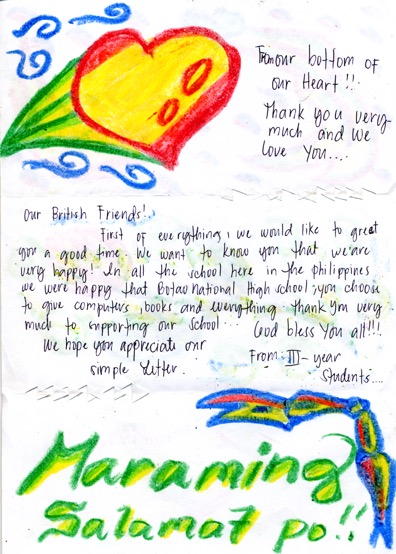 There are storybooks on the site which chart our progress as we increased our activities for the two local schools.
We also have a YouTube channel where we show some of the school's activities and views of the school

There was never a plan, or a goal, never a desire to be considered as benefactors or philanthropists. It was really the generosity of our friends in England, the racers and musicians we knew who offered help in many forms. Some gave cash, others their old computer. Paper, pencils, old clothes. The Project just found its own momentum, as our dining room turned into a store cupboard. To all those that have helped with the Project, what can I say? Without you, it would never have happened. Thank you is hardly enough.